OnSIP's range of hosted VoIP solutions are simple to set up and easy to use, so you can get on with the business of connecting with your customers.
Phone system replacement
Replace your phone system in less than an hour! Our hosted PBX solutions offer all the features you need—without the bulky hardware—including softphone apps, extension dialing, BHRs, wait queues, conference bridges, and video conferencing.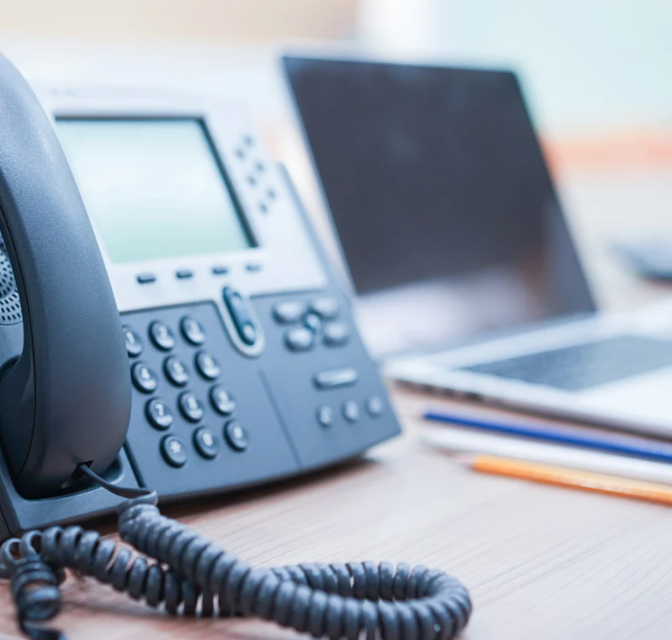 You can download a PDF to read more about the system. In it we detail how each feature helps your business, how to get it, and how much it costs. Download the guide today, and let us know if you have any questions.
Included in this PDF:
Business Phone System Basics
Call Center Features
Collaboration Features
Admin Features
Remote working hub
Our work from home solutions give you the features and freedom you need to work anywhere and keep your business running smoothly. Free mobile and desktop apps, call forwarding, and unlimited video conferencing make it easy to stay connected when your home becomes your office.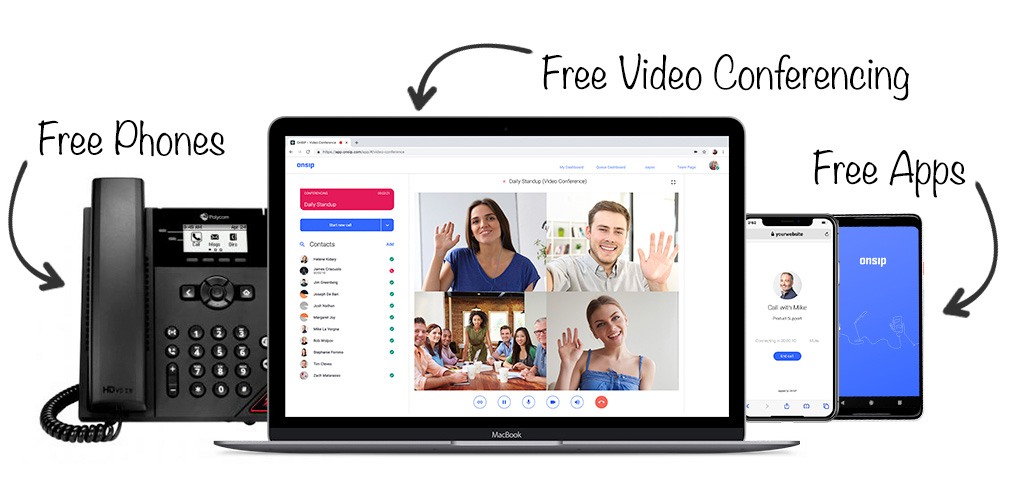 If you can't meet with your clients in person, talk face to face with OnSIP's secure voice and video calls! Our free desktop, browser, and mobile apps were designed to give you a fully encrypted call end to end—and they even encrypt calls to landlines.
sayso website chat
Discover the smarter way to encourage inbound calls! sayso allows website visitors to voice or video chat with sales teams through your website. Our real-time alternative to text chat also integrates with HubSpot for a streamlined, context-aware calling experience. Upgrade to sayso Pro for screensharing & analytics!
Right now, most businesses list a catch-all phone number on their website. Potential buyers must grab their phone, transcribe the number, listen to recorded messages, navigate menus and wait in a queue for an opportunity to speak with someone.
This is why we're committed to making sayso the preferred option for both site visitors and businesses. With an easy-to-install button on your website, qualified visitors can quickly declare they wish to speak with someone, what topic they wish to discuss, and can be connected directly with a qualified representative through their browser.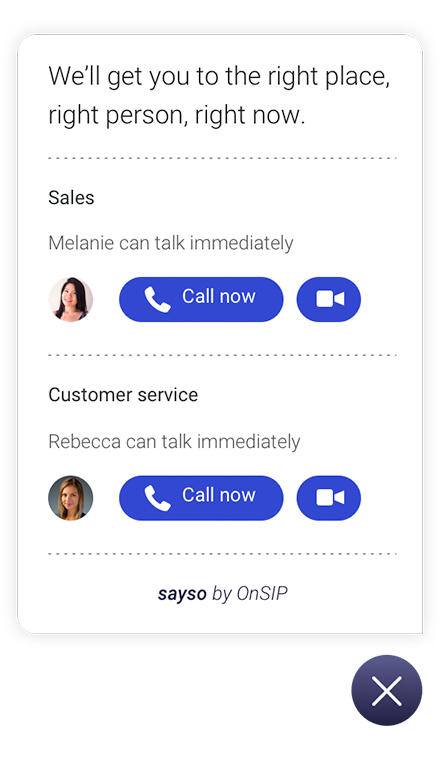 Softphone apps
OnSIP's free mobile, desktop, and browser apps let you make and receive calls on the go—you just need your phone or laptop. With business calling features, collaboration capabilities, and call management functionality, our softphone app delivers a full-featured phone system without the traditional hardware.
Video conferencing
Meet with colleagues or host conference calls with up to five people in the OnSIP web or desktop app. Our secure conference links allow you to quickly join a meeting right in the browser—no downloads required.