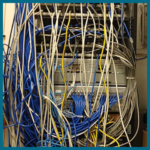 The IT Time Bomb that Could Cost Your Business Money and Customers.
I have a friend who is an auto mechanic. Whenever he is asked about the reliability of a car, no matter the make or model, he always says, "They all break. If they didn't, I wouldn't have a job."
Cynicism aside, he is correct. Every piece of equipment you use in your business is a time bomb, guaranteed to break at some point and need to be serviced or replaced. This includes your major IT infrastructure. Since the Internet is the backbone of business today, IT equipment failure is a serious situation that needs to be fixed immediately.
So imagine you open the door to the network closet with your IT technician and find this:
This tangle of wires is more than just a visual embarrassment. The technician will have to spend hours sorting through the rat's nest just to determine your problem. This is not only billable time. It is also time spent isolated from your customers.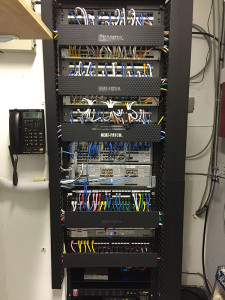 A well-organized network closet is not only visually appealing. It allows technicians to quickly and easily access equipment and repair as needed. It also improves airflow around equipment, reducing heat–a major cause of equipment failure.
Demand that whoever installs your network infrastructure leave it well organized. And if your network is already established, check to make sure your network closet is organized and fix it now if it isn't. That way you ensures that when your time bomb explodes, the damage is minor and fixed quickly.