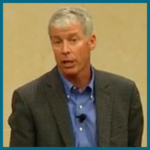 In this presentation, Chris Wright will discuss why he became an entrepreneur and some of the many mistakes that he made along the way. People are central to all businesses and endeavors in life. This seemingly obvious idea is rarely fully appreciated. Chris will also talk about the central role of energy in human history and how energy innovations in the 19th century, combined with the property rights revolution, enabled the rise of the modern world. Recent energy innovations are again reshaping the world. He will close by explaining why he does not like the expression "Giving Back" and will share his vision for how the next generation can help better the world.


Chris Wright grew up in Colorado. He is a passionate outdoorsman: hiking, backpacking, climbing, cycling, skiing, etc. He has also had a longtime passion for science and energy. After studying Mechanical and Electrical Engineering at MIT, undergraduate and graduate, he became an entrepreneur in technology and energy. At age 27 he founded Pinnacle Technologies who developed and commercialized technologies that for the first time allowed direct measurements of how hydraulic fractures actually grow deep underground. These direct measurements dramatically increased the understanding of how fractures behave and provided insights that catalyzed the start of the shale revolution in late 1990's in Texas' Barnett Shale.
In 2000 Chris co-founded one of the first shale gas production companies, Stroud Energy. He served as Chairman of Stroud while remaining President and CEO of Pinnacle Technologies. Right before a 2006 IPO, Stroud was acquired by Range Resources. Also in 2006 he turned over the reins at Pinnacle to a colleague and spent most of the next three years coaching all his kid's sports teams, bike racing, and traveling with his family including two trips to New Guinea. In 2010 Chris co-founded Liberty Resources that employs these fracturing innovations to produce oil in the Bakken shale in North Dakota. In 2011 he co-founded Liberty Oilfield Services, a hydraulic fracturing company, which provides fracturing services and innovations to other oil and gas producers in North Dakota, Wyoming, Colorado and Texas. In addition to being CEO of both Liberty companies, he is on the board of several other companies, and non-profit boards with a focus on education, addressing poverty, and the environment.